NYC Corporate Housing
Taylor-ed To You
Your Journey, Our Expertise
"I have rented the past couple of summers and have had a very positive experience each time."
- Dawn M.
"I usually spend one week in NY every 3 to 4 months and I have always been @Taylor Made apartments, till 2010 (wow time really flies!) I like the quality, the price, the location, reliability. I think it was 2012 or 2013 I was still a recent client, I was leaving NYC to Houston, there was a big thunderstorm and my flight was canceled. Guess what, I did send an email to Taylor Made, it was Sunday evening and Tobey responded to me, founding a new apartment for one night, sorting all my problems out...this is great Service! Thank you very much, indeed"
- Sabrina C.
"Regine was absolutely amazing and thank you to Augie. He was a rockstar!! Thank you both so much"
- Christian W.
"Tobey, I would like to thank you for your time and help and would like to express my appreciation to Regine. I think you are lucky to have her on your team. She is very helpful and good saleswoman."
- Omar A.
"When my husband and I were looking to purchase an apartment in New York we were so fortunate to have Laurie from Taylor Made guiding us through every step of the process.
Laurie knew every aspect of the real estate market and she quickly perceived our goals and needs even though initially we couldn't articulate them. From the initial process of exploring areas to the end process of filling out contracts and board approval packages, Laurie was invaluable.
I totally trusted Laurie and she never steered us wrong. I would not hesitate recommending Laurie to anyone. She was wonderful and made the whole experience fun."
- Kathi K.
"I am delighted to write this letter of recommendation for Taylor Made Furnished Apartments. They have been our main vendor for Corporate Housing in New York since 2011 and I personally have dealt directly with them for the past 3 years. From the outset of our business relationship, they have been dedicated to our housing requirements.
They are dependable and always manage to accommodate our people even on the shortest of notice. Taylor Made has always gone over and above to ensure that our guests were well taken care of and comfortable in their homes away from home. Maintenance issues are dealt with almost immediately and the apartments always kept clean. They continue to maintain the same level of dedication and service as they had from the beginning.
It is a great pleasure working with Taylor Made and would highly recommend them for any individual or corporate housing needs."
- Patricia R.
"Always prompt, professional, and eager to support our needs."
- Suzanne J.
"Love the Taylor Made Team!"
- Connie M.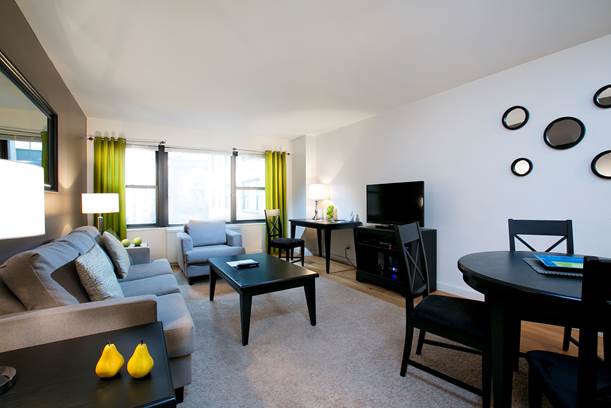 "Great company to work with. Always responsive and helpful. Understand needs"
- Helen B.
"Great customer service. Looking for great service, don't look any further. Taylor Made is a gem!"
- Marianne S.
"Outstanding. I love working with TMFA!"
-Karen D.
Stay Connected
We're always posting great photos of our luxury apartments and news about exciting events happening around NY. We also share helpful tips for new New Yorkers, corporate housing, relocating, and even vacation rentals. Don't forget to keep an eye open for our social media exclusive special offers.
Our 2015 team raised over $35,000 to support Voices Against Brain Cancer - an organization whose mission is to find a cure for brain cancer by advancing scientific research, increasing awareness within the medical community, and supporting patients, their families, and caregivers afflicted with this devastating disease.